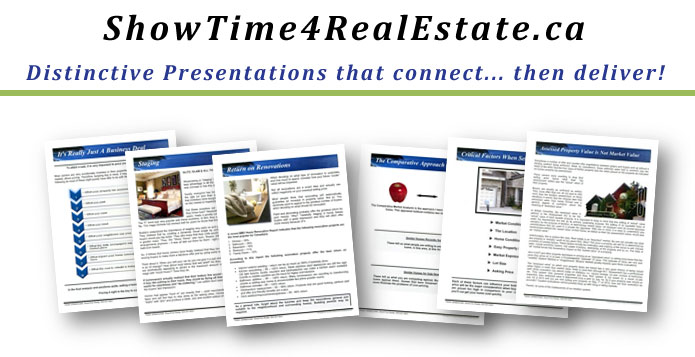 Frequently Asked Questions

&nbsp &nbsp I notice that you have information pages on GST, CMHC and other topics that frequently change their policies. Do you keep these topics updated for us?
Yes - we almost instantly upload a revised file on to our site every time there is a change. We also notify you of any major changes.

&nbsp &nbsp Why would we need a presentation tool? I get along just fine with my presentations now or I just "wing" it and still have great results.
You may think you have great results but every time you don't get the listing you will have to honestly ask yourself, "what did I do wrong?" Many times you will find that your "leave behind" materials just didn't measure up to your competition's. Imagine if Johnson & Johnson had piecemeal marketing tools to promote their business or sign up new clients. Their companies have spent probably millions to fine tune their presentations for good reason - their bottom line.

&nbsp &nbsp Do I have to buy the "Property Lines" Newsletter separately from the
ShowTime
Presentation Materials? How often does the Newsletter come out? Do I have to be a
ShowTime
member to buy the Newsletter?
When you purchase ShowTime, the Property Lines Newsletter is included. However, you can purchase Property Lines by itself. The Newsletter comes out six times during the year (bi-monthly) - January, March, May, July, September and November. You do not have to be a ShowTime member to purchase it.

&nbsp &nbsp What is the difference between
ShowTime
presentations and the CMAs that I can produce through my Real Estate Board?
First off, no Real Estate Board that we know of has compelling and professional pages like ours to give to buyers. Our information topics are unique and graphically designed as well as educational. Also, our CMA offers so much more than the American or generic Real Estate Board CMA options. Our written presentations use a wide variety of artistic themes and deliver impact!

&nbsp &nbsp Can I access
ShowTime
from any computer?
Yes. We are an internet-based application and therefore can be accessed anywhere in the world and at any time from any internet-connected PC, Mac or iPad with any of the latest browsers.

&nbsp &nbsp Is
ShowTime
difficult to learn and apply?
We realize REALTORS® are sales people - not techies. There is no hardware to install. We have simplified the process so that even the most "computer challenged" individual will be able to navigate with ease and produce stunning presentations very quickly. After the initial input of your personal information i.e. contact numbers, your company, your picture, etc., you will be able to produce agency-quality marketing materials proficiently and swiftly.

&nbsp &nbsp Does
ShowTime
interface with your local Real Estate Board?
No - not at this time. You will have to print off your comparables and manually insert them into your presentations.

&nbsp &nbsp How long does it take before my account is activated? When will I receive my reference binder?
We like to get you up and running immediately. You will be on-line within one business day and you will be notified. Your reference binder will be delivered or mailed out to your business office within three to four days of receiving the order. There is no charge for the one day postal delivery.

&nbsp &nbsp Can
ShowTime
accommodate teams?
Yes. However, each member of the team must purchase a membership at full price. All materials will read "John Doe and Team" or "John and Jane Doe and Team" or something similar.

&nbsp &nbsp Can
ShowTime
be set up to accommodate partners?
Yes. However, all partners (or each REALTOR®) must purchase ShowTime at the full cost. There is one exception though. If both REALTORS® are married to each other and have the same last name, then only one partner will be charged.

&nbsp &nbsp How long has
ShowTime
been around?
ShowTime is based in West Vancouver, B.C. - thus, this is why all the materials contained therein are BC specific. ShowTime has experienced rapid and continued growth since its inception in 2002. From the beginning, we have strived to make our products cutting edge and our testimonials tell us we have succeeded in that goal.

&nbsp &nbsp Do you offer trial periods to demo
ShowTime
?
No. You can operate our demo and experience first-hand how ShowTime works before you ever order the service. You can also talk to or email us if you have questions.

&nbsp &nbsp How can I order
ShowTime
?
You can order ShowTime and our newsletter, "Property Lines" through our Internet server. We do not take credit card numbers on-line for your security. Once you place your order and agree to our terms and conditions we will phone you for your credit card information.

&nbsp &nbsp Is there a yearly renewal fee?
Yes. $85.00 plus taxes (subject to change). You will be notified by email when your membership is about to expire and also when it actually does expire. You can renew on-line or by phoning us.

&nbsp &nbsp Are the presentations printable? Can you email them to clients?
Yes, you can print off copies either on your inkjet or laser printers. We prefer laser of course, as the colors are more vibrant. Yes, you can email individual pages or the presentations themselves via an e-mail link. The presentation is stored in your own personal "Archive" on our servers and is available for you to access as long as you keep current your membership account.

&nbsp &nbsp Can I use the
ShowTime
materials on my personal web site?
No. To protect our copyright we cannot permit any of our materials or presentation pages to be posted on the Net.

&nbsp &nbsp Can I save my presentations in PDF format?
After any presentation or newsletter is completed you have the option to save them in PDF format and save them to your Desktop.

&nbsp &nbsp Is there training for
ShowTime
?
ShowTime was designed for the non-tech savvy real estate professional. The reference binder contains instructions for ShowTime and the newsletter. We also spend one hour (or more) on the phone with you making sure that you are utilizing our program to its maximum.

&nbsp &nbsp Can
ShowTime
be customized?
When you buy a membership you will fill out your personal profile which asks you to upload your picture, phone numbers, company name, email address, etc. This information will be merged into the presentation documents automatically. You only have to fill in your personal profile once and our software will do the rest.
Much of the text in our CMAs and PreListing Packages can be changed to suit your own writing style. You can also take one of our templates and compose your own page(s).



Back to Top
|
Home