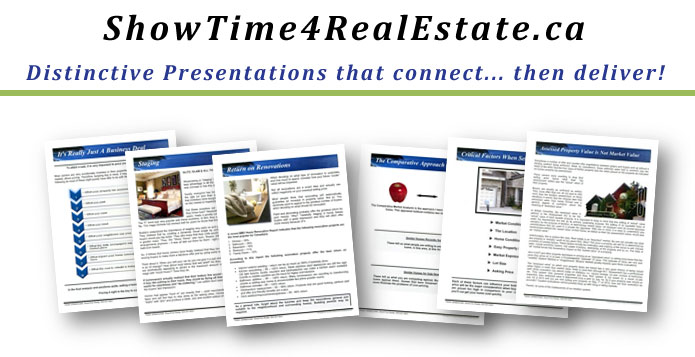 What is ShowTime?
ShowTime is an on-line real estate presentation building tool that allows real estate agents to quickly create customized listing, buying, and FSBO presentations using a selection of over 170 pre-written content pages.
Your potential clients will be impressed by the breadth and depth of the content that you will be providing them, helping to ensure that you will be the agent that they choose to do business with!
With ShowTime, you never have to worry if you "measure up" to your competition: you will lead your competition!
Why Do You Need ShowTime?
Well... simply put,
ShowTime
enables you to create great presentations that will, when all is said and done, make you more money!
ShowTime
has been helping REALTORS
®
do just that for over 12 years. We have over 170 exciting topic pages (and adding) to choose from to help you build impressive and professional presentations for both sellers and buyers that truly inspire consumer confidence.
Your challenge is to stand out from your competitors. You achieve this by ensuring that you present the best impression possible, and having professional presentations that deliver impact is where success begins. ShowTime allows REALTORS® to quickly personalize, produce and print a vast assortment of agency-quality presentation materials with just a few clicks of the mouse.
British Columbia-specific ShowTime gives you confidence, ups your game and makes it easy to succeed over your competition! Don't lose another listing!!! Order ShowTime right now!
Who Buys ShowTime?
Both the seasoned REALTOR
®
and "newbies" do for entirely different reasons. The new REALTOR
®
buys it because when they come into the real estate industry, they are, for the most part, left without any type of written presentations to compete with veteran REALTORS
®
.
The seasoned REALTOR® buys it because their written materials are usually dated and they don't want to take their valuable time to make them sizzle when they could be out in the field making money!
Sometimes veteran REALTORS® buy ShowTime just to breathe new life into their careers.
The generic CMA pages provided by the Real Estate Boards are often American in content or so general that they don't leave any impression at all.
Unique Advantages
Web Based
Use
ShowTime
from any Internet connected PC, iPad or Mac device with any of the latest browsers. Presentations are saved on our servers in your own personal "Archive." You can start a presentation in the office and finish it when you arrive home. Content updates are automatic and you will be notified of any major changes. For example, we have one topical page called CMHC that explains what it is, what their premiums are and how to work out the total cost to the consumer. If CMHC changes their rates, this will be automatically reflected on our site and you will be notified.

REALTORS® Personal Information Automatically Included In Content
REALTOR'S
®
name, contact numbers, company name, company logo and your photo are stored on our server and will be automatically placed into selected documents.
Presentations Via Email Link
All presentations or fact sheets can be delivered to the prospect or client via email link from our site. A PDF of the selected presentation is stored on our server. When your customer clicks on the link in the email message, the presentation will appear in full colour on your client's computer. A large email attachment is not required.
B.C. Specific Content
Most of our content is specific to British Columbia. Thus, at the moment, we do not sell it to REALTORS
®
who are out of Province or elsewhere in the world.
Easy To Use
We have been told over and over that this is a very easy program. However, we do offer one-on-one support to coach you through and to ensure that you are using our program to its maximum. There is no additional charge for this service and we also give you ideas on how to make money using it. We take you through the complete process of creating a presentation using our system.

Reference Binder
People are visual by nature and that includes REALTORS
®
. We give you a hard copy of all our content so that you can pick and choose from our plethora of topics at your leisure. Once you have flagged your favourites, quite simply go to your computer and create your presentation. The binder also contains easy on-line instructions.
Customizable
Our CMAs are proven and endorsed by
ShowTime
REALTORS
®
and most of the content can be personalized. You can rewrite some of our pages or create your own and still have that uniform look choosing one of our designs. Our Buyer presentation materials are second to none and very unique in the real estate industry. If you want to connect with Buyers,
ShowTime
will place you "head and shoulders" above your competition. Buyer pages such as Property Taxes, Property Transfer Tax or the Home Buyers' Plan cannot be customized even though each page has your name, company name and contact number in the footer. If these topic files need to be updated, we do that for you when legislation changes.
Multiple Designs
We offer many attractive designs so that your presentation looks "put together" - not thrown together. You are not locked into any one design and can pick and choose as you wish.

On-going support
When you purchase a
ShowTime
membership, you can call us seven days a week 9am to 9pm or you can email us with your question and we will reply within the day.
PLUS...
Besides our presentations, information sheets and the like we have one more added benefit which is our bi-monthly newsletter, "Property Lines." It has proved to be very popular and is a great way to keep in touch with your client base!
Property Lines Newsletter Six issues per year and always about BC real estate. Double sided. REALTOR'S® name, contact numbers, company name, company logo and your photo are stored on our server and will be automatically placed into this distinct marketing piece. You are free to customize the bottom of page two with your special message or with current area statistics. Our newsletter can be professionally printed (full bleed), sent as a PDF or you can print it off yourself.



Back to Top
|
Home